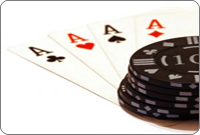 Poker includes some very exotic variants such as Pai Gow, which is based on the same rules and pits player and dealer against one another, with both seeking to get the upper hand. In Pai Gow one uses a deck of 53 cards completed by a Joker which is wild and can replace a specific card to form winning combinations. Pai Gow is very affordable and rewarding. The types of wagers this game involves resemble those of traditional Poker, and it will have a minimum and a maximum bet, just like the well-known "blinds" of the most-played card game on the planet. However, the big difference between Pai Gow and other variants is the fact you may bet one and only one time per betting round.
How to Play Pai Gow Poker
At the very outset of the game, the participants begin by making either a minimum or maximum bet. They place their bets on the table before the cards are dealt. Next, the player and the dealer each receive seven cards from a single deal. The player and the dealer then have to try to compose two specific hands using their seven cards. The first hand must be composed of five cards, while the second will have only two cards. The purpose of proceeding with this split-up is to ensure that the five-card hand is as strong as possible. The player and the dealer place their hands on the table and compare them. The one who wins pockets all the wagers placed on the table beforehand.
The Value of the Cards in Pai Gow Poker
In Pai Gow the strength of the combinations played is the most important aspect because it determines if a player wins or loses. We list all the hands below in descending order of weakest to strongest:
The House Edge in Pai Gow Poker
There are several possible outcomes in Pai Gow Poker. The first case will be a win for the Bank, which also benefits from a more attractive advantage than the player. If both hands of the dealer are in fact stronger than those of the player, the dealer prevails. A tie is also possible if one of the two parties possesses at least one stronger hand than that of his adversary, even if this is the hand comprised of two cards. As a consequence, the player recovers his bet and a new game will be started up. If the dealer's two hands are both weaker, the player wins one time the amount of his bet. But in the opposite case, the dealer can win up to two times the amount of the player's bet, depending on the online casino in which Pai Gow is offered.