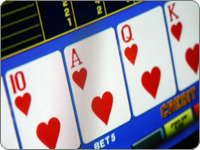 Video Poker is very similar to conventional Poker and the combinations to make are exactly the same. While the poker player will have no trouble familiarizing himself with this game, he must bear in mind that Video Poker is an "automated" amusement that is played on a screen. As a result, certain elements of table Poker do not exist in Video Poker.
How to Play Video Poker
The procedures to follow for playing to Video Poker are very simple. To begin, the player has to place one or more coins into the slot provided for this purpose. In online casinos, the player will have to simply click on the number of credits he wishes to spend. He can wager as much money as he wishes, provided that he does not bet below the minimum amount allowed or in excess of the maximum sum accepted.
Next, the player only has to press or click on the "Deal" button – sometimes one also finds a "Play" button. In land-based casinos, in order to fully preserve the spirit of the game, Video Poker slot machines are equipped with metal levers, somewhat like the first mechanical slot machines.
Five cards are then going to appear on the screen. The player will have to indicate the cards he wishes to keep and those he wants to discard. The discarded cards will automatically be replaced by new final cards. Finally, the screen will indicate whether the player has a winning or losing hand, and consequently the sum total that he will possibly have won or lost.
Video Poker Player Actions Explained
Banco: When the player receives a payout via a winning hand, he may then enable a "Banco", meaning that he has the opportunity to double the sum of future winnings.
Double up (Double): The player can also double the amount of his initial wager. Five new cards appear on the screen. One of them is visible but the other four remain face down.
Drawing a card (Hit): At that point in the game, the player turns over one of the four cards remaining face down. If the card he draws has a higher value than that of the card already turned over, his winnings will be doubled.
The Value of the Cards in Video Poker
Just as in the regular version of the game of Poker, in Video Poker players have the opportunity to form a series of winning combinations. Below we rank each hand from the highest to the lowest:
Royal Flush = 10, Jack, Queen, King, and Ace of the same suit
Straight Flush = five cards in sequence, all of the same suit
Four of a kind = 4 cards of the same rank
Full house =3 cards of the same rank and two matching cards of another rank
Flush = five cards of the same suit
Straight = 5 cards in sequence regardless of their suit
Three of a kind = 3 cards of the same rank
2 pairs = 2x 2 cards of same rank
1 pair = 2 cards of the same rank, with at least 2 Jacks