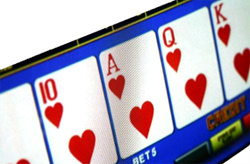 Video Poker, which traces its origins to the United States, is one of most highly practiced games by players at the many online casinos on the Internet. The principle is simple and remains identical to that of traditional Poker: at the end of the game, the player must be holding the best draw; so one refers to having the "best hand" in order to win the round.
The development and the success of Video Poker rests in part on the incredible improvement in the machines, which now offer us ever more attractive and detailed graphics and animations. As with many games of chance, there are several methods that can used to tilt the odds in one's favor. We will now run through some tips to think about when playing video poker online.
Selecting the Right Video Poker Machine
In order to properly select the machine you are going to play on, there are several criteria to take into consideration:
You have the opportunity to choose between a "Jacks or Better" or a "Deuces Wild" machine. The latter offers a certain advantage in the rules of play, since all the cards with the number 2 will be considered a Joker card and as such can be substituted for any other card. On the other hand, because a good hand will be possible more often, the winnings could be a little less substantial.
Try as much as possible to use machines that say "full pay". This distinction comes into play in terms of the amount of winnings. The frame of reference is the following: if you use a "Jacks or Better" machine, then expect a payout of 6 for a flush and 9 for a full house. In case you play on a "Deuces Wild", then look to a payout of 9 for a straight flush and a 5 for a four-of-a-kind.
Video Poker - Making Use of Card Tracking
As in many card games, if you want to predict the cards that come up on the carpet you can execute what is known as the counting or tracking of cards. By knowing which cards have already been played, you can guess which cards will be found in the subsequent draws and thereby make decisions about your bets.
It's important, then, not to rush, to take time to reflect, to appreciate the game in order to make the best decisions about the cards you have in front of you!
Video Poker – Set Personal Limits
We would especially like to address this point, for the casino owners never talk about it: Your personal goals! Before launching into a game, you need to decide on the maximum amount you are willing to play in case you lose it all; and in case you win, you need to know what amount will make you happy and will enable you to leave the table. It's also necessary to know one's time limits: how much time overall do you want to spend at the table?
All this information is important and you should have it worked out before you start playing. It will only make your game more serene and enjoyable!