Keno Rules
The Rules of Keno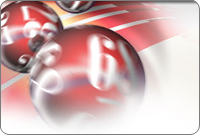 In Keno, the object of the game is to bet on a winning draw from a large selection of up to 80 numbers. As a general rule, the player has the opportunity to bet on 20 numbers and the odds of winning are therefore decent, being one in four. Keno is a casino game that closely resembles the Lottery. Like the Lotto, it only requires the use of a ticket, also called a "grid". The player simply has to mark the numbers he thinks will win at the very start of the draw, and then the results are compared to identify a winner.
How to Play Keno
In a similar fashion to a lottery or bingo, players mark 20 numbers they want to use on the grid of numbers. On each grid, the player indicates the bet he wishes to make, as well as the number of games he wants to play. To each bet or number there corresponds an official pay table. The winnings relate moreover to the various categories of wagers. Then the draw takes place, for which you nothing special to do other than to watch and hope that your numbers are chosen. Following the draw, the results are compared and the winners of the game are identified.
Keno Player Actions Explained
There are many different bets to choose from in Keno and players have the opportunity to opt for as many as they choose. We list the bet types for keno them below:
Straight Bet: The player chooses a number or set of numbers on the grid. This is a standard bet.
Bet Against: The player marks a minimum of eight numbers. He receives winnings only if these eight numbers are not drawn. The more numbers the player chooses, the greater is his remuneration in using this bet.
Hit All: The player marks between two and seven numbers and receives winnings only if all the numbers selected are drawn.
High Roller: A variant of the straight bet but where there is a much greater risk factor. The player bets on a large number of numbers and the payout can be doubled if the numbers hit.
Top or Bottom: The player bets that that a high number of winning numbers will be concentrated in either the top half (from 40 to 80) or the bottom half (from 0 to 40) of the Keno ticket. The winnings generated relate to the risk-taking of this bet.
Keno Odds and the House Edge
The casino's advantage (or house edge) over the player in Keno varies. However, it can prove to be a disadvantage since it is estimated to be at least 30 percent. The odds of hitting one correct number out of eighty are only 0.25 percent. Even though payouts can be enormous in this game, you must nevertheless be sufficiently careful if you intend to play Keno a lot as it is still a lottery game meaning the odds of winning are massively low.