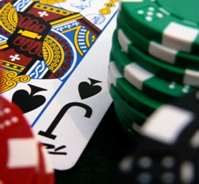 Blackjack is a card game that traces its origins to two other card games. It first took root in the casinos of Paris, before crossing the Atlantic Ocean to arrive in America. As with all table games, in Blackjack there are several strategies that can influence your play and facilitate your access to riches! We are going to review these playing techniques together, so that you will advance past the beginners stages of blackjack playing.
Card Counting in Blackjack
If you are seated facing the dealer, your objective will be to take note of the cards dealt out in order to know exactly what is left in the shoe. The advantage of this technique is considerable and very beneficial to the player who executes it flawlessly. With it you can determine whether you should bet a greater amount based on your play, knowing which cards are likely to be drawn, or else adjust the hands in order to refine your basic strategy, a method explained below. Card counting is not easy. A point score will be assigned to each card and depending on the draw, a positive or negative result will come out.
To acquire and master this counting technique generally requires a great deal of practice by the player, spending time at the tables in order to train oneself. It's also necessary that the player be comfortable with doing mental computations, so as to be able to memorize a series of numbers and to calculate them.
The technique that is generally known as "Hi-Low" is one of the easiest methods to retain. You will simply assign a value to each card that is dealt:
For the 10, Jack, Queen, King cards = -1 pt
For the 7, 8 and 9 cards = 0 pt
For the 2, 3, 4, 5 and 6 cards = +1 pt
By means of this rule, you will become familiar with the cards and the draws, and you will be able to determine whether it's to your advantage to increase your bet during the round in progress or to stand, in order not to lose money or to lose very little.
Blackjack Basic Strategies
These strategies are at the core of Blackjack if you want to have any hope of turning things around at your table. They were elaborated by several individuals including Roger Baldwin, a mathematician, who observed and indexed every possible hand on the basis of the face-up card of the dealer. Today, there are charts that show these potential hands and the corresponding actions that players should take: to stand, take a card, double down or split. Like their names indicate, these are basics of Blackjack for a player who would rather not leave everything to chance. The charts are easily accessible on the Internet and it takes only a little while to memorize them. The advantage for the online player, it's that you will have Fun modes to use in training yourself.
These strategies are essential and should be known to all players who would like to start out on card counting!