Thunderkick
Thunderkick Casino Software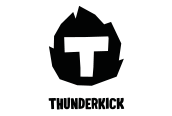 It seems impossible to move within the casino market without bumping into a Swedish company and low and behold we have another of the master craftsmen right here in Thunderkick. How best to describe this developer? Care-free, creative, trendsetters, and we'll add unique in there too because you never get the same game twice. The last thing we all need right now is a developer thinking Egyptian myology is all we care about.
Thunderkick Software Features
Thunderkick is the kind of producer that would make a game about a certain theme or style 6 months before anyone else, but when the bigger names copy them, not only are they worse but get applauded for creating something new. Meanwhile, Thunderkick carries on regardless with little recognition. A sad story indeed.
The gaming platform comes available across all devices and their skills flow into Remote Gaming Server requests. Thusly meaning they can also create bespoke games.
One of Thunderkick's stand out habits is the ability to produce new gaming features before anyone else. To write about it would do it an injustice, so all we ask is that you play Birds on a Wire™ and you'll be amazed at the sheer genius of how the game plays, the animation, and the humour which is massively lacking in 99.9% of online slots.
Thunderkick Casino Games
Not Enough Kittens™, Flame Busters™, Pink Elephants™, Luchadora™, Well of Wonders™, Turning Totems™, 1429 Unchartered Seas™, Birds on a Wire™ and Esqueleto Explosivo™ to name just a small list of famous titles developed thus far. As yet not one big license deal but who needs the backing of a film name to make a game good.
These titles have been played millions of times upon their releases and don't age as a film themed slot would. Flame Busters™ took the casinos by storm with a fresh revival of the 8-bit graphics. The game spawned many rip-offs as standard but none beat this in terms of quality, depth, and even the payout returns.
Well of Wonders™ created a new form of reel, by scrapping it altogether. Here the game produces 7 symbols, all rotating in mid-air as they are magically thrown from the well. Each win of 3 matching symbols increases the multiplier, after which the winning symbols vanish to be replaced and the pattern continues until a non-win comes about. This style that a win would power-up a multiplier win rate has been copied many times since.
If there was even an opportunity to experience bold and fresh ideas before anyone else, then jump onto a new Thunderkick game,
Thunderkick Casino Bonuses
Of the casino choices we provide, William Hill would be the better one to play Thunderkick games at. The Bonus of $650 to play with may not lead you to jackpot game titles, but you will have Thunderkick games that have a better payout ratio. Tropezia has a lesser bonus of $100 free when you join but each casino has their only individual perks once inside as a member.